Transforming Sustainable Water Management: Creating Jobs and Saving Energy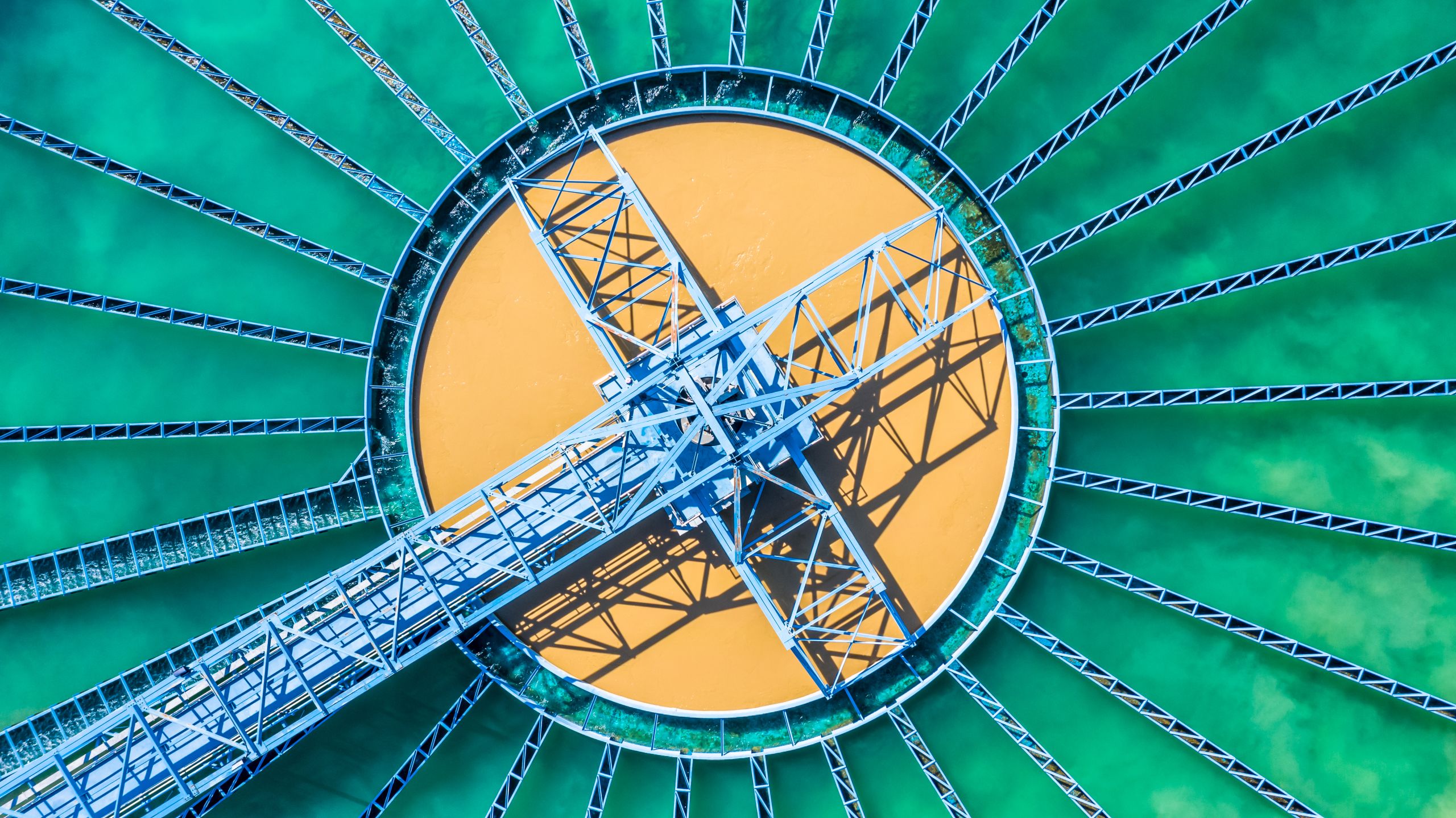 SUMMARY
As global pressure on water and energy increases, the demand for the next generation of sustainable solutions at the water-energy nexus has shaped research in the Microbial Ecology Laboratory (MEL) at University of Galway. The elegant technological solutions patented by MEL, and commercialised by NVP Energy, a University of Galway spinout company, has led to 15 new specialist jobs created in Ireland and has enabled climate-smart, and cost-effective actions for wastewater treatment. NVP Energy has installed five systems including at the Heineken Brewery in Hereford, UK and at Welsh Water in Builth Wells, UK. These new digesters provide a more sustainable solution to water treatment, using less energy to operate compared to traditional systems, equating to financial savings of 65-80% per year.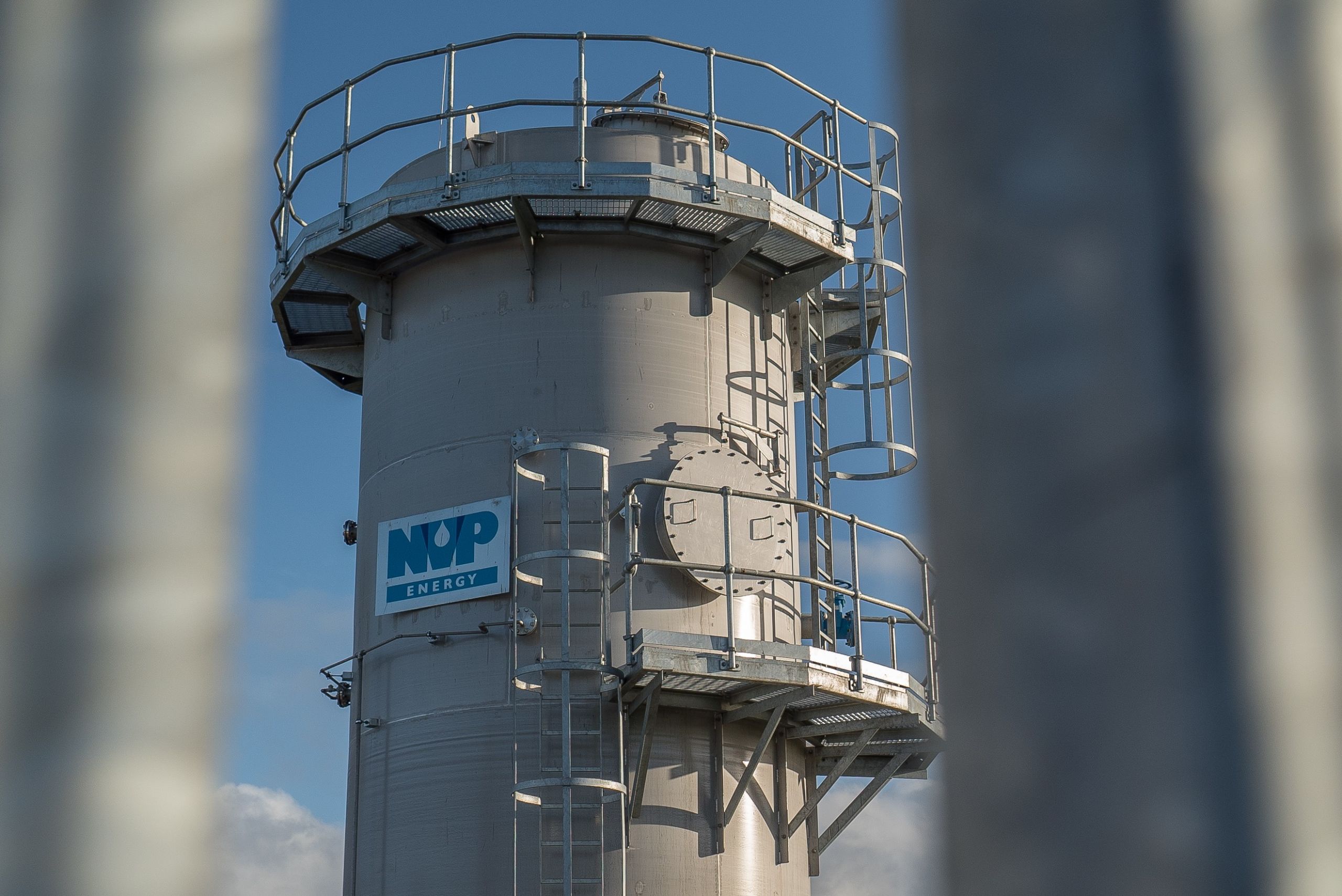 Research Description
In the natural environment, organic matter is degraded by diverse communities of microorganisms through a process called anaerobic digestion (AD) – a process which can be harnessed for engineered wastewater treatment. Compared to conventional treatment processes, AD is less energy-intensive, reduces land-use requirements, and produces biogas as a renewable energy source. AD is a biological process, reliant on the livelihood and activity of the microbial communities 'eating' the organic pollutants. If the bacteria are unable to survive, the system fails. Generally, microorganisms thrive at warm temperatures (around 37°C), but heating wastewater requires significant energy expenditure, especially in temperate climates such as Ireland.
Professor O'Flaherty became convinced, at a time when it was still considered unfeasible, that we could 'train' or 'adapt' the microbial community to operate at low temperatures – similar to athletes training at high altitudes to increase their fitness. Such adaptations would avoid the costs and energy consumption associated with heating, creating meaningful change for the way wastewater is treated in Ireland. Decades of cutting-edge research ensued starting in tiny glass bottles – testing biogas production rates and temperature adaptations. Successes led to larger laboratory-scale experiments, exploring a range of complex wastewaters (dairy, municipal, antibiotic, etc.) and system designs at low and very low temperatures. One of these laboratory-scale experiments tested an entirely new design which resulted in highly-efficient low-temperature treatment. The design was patented in 2017, the rights purchased by NVP-Energy, who have since commissioned six pilot- and full-scale systems.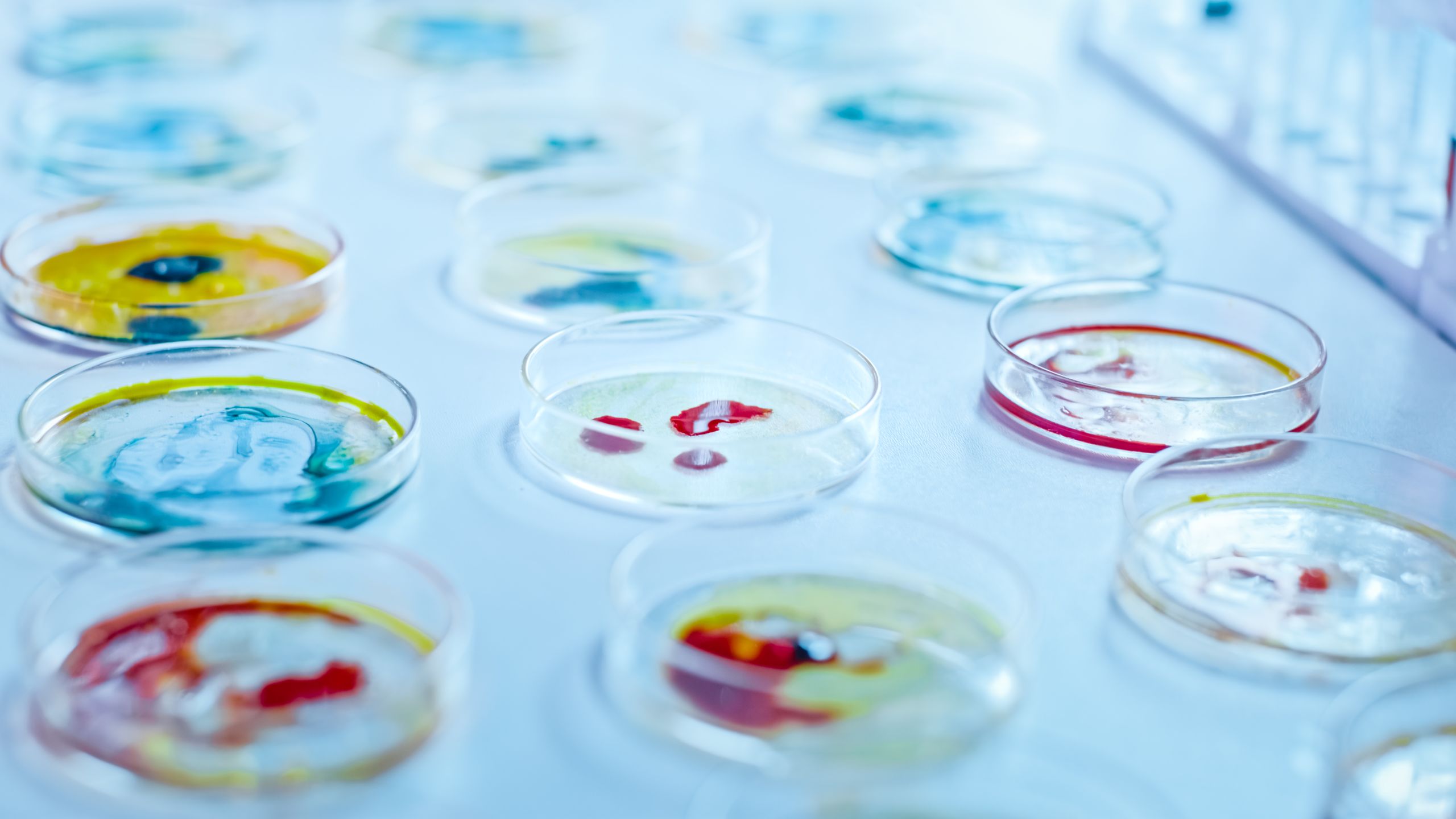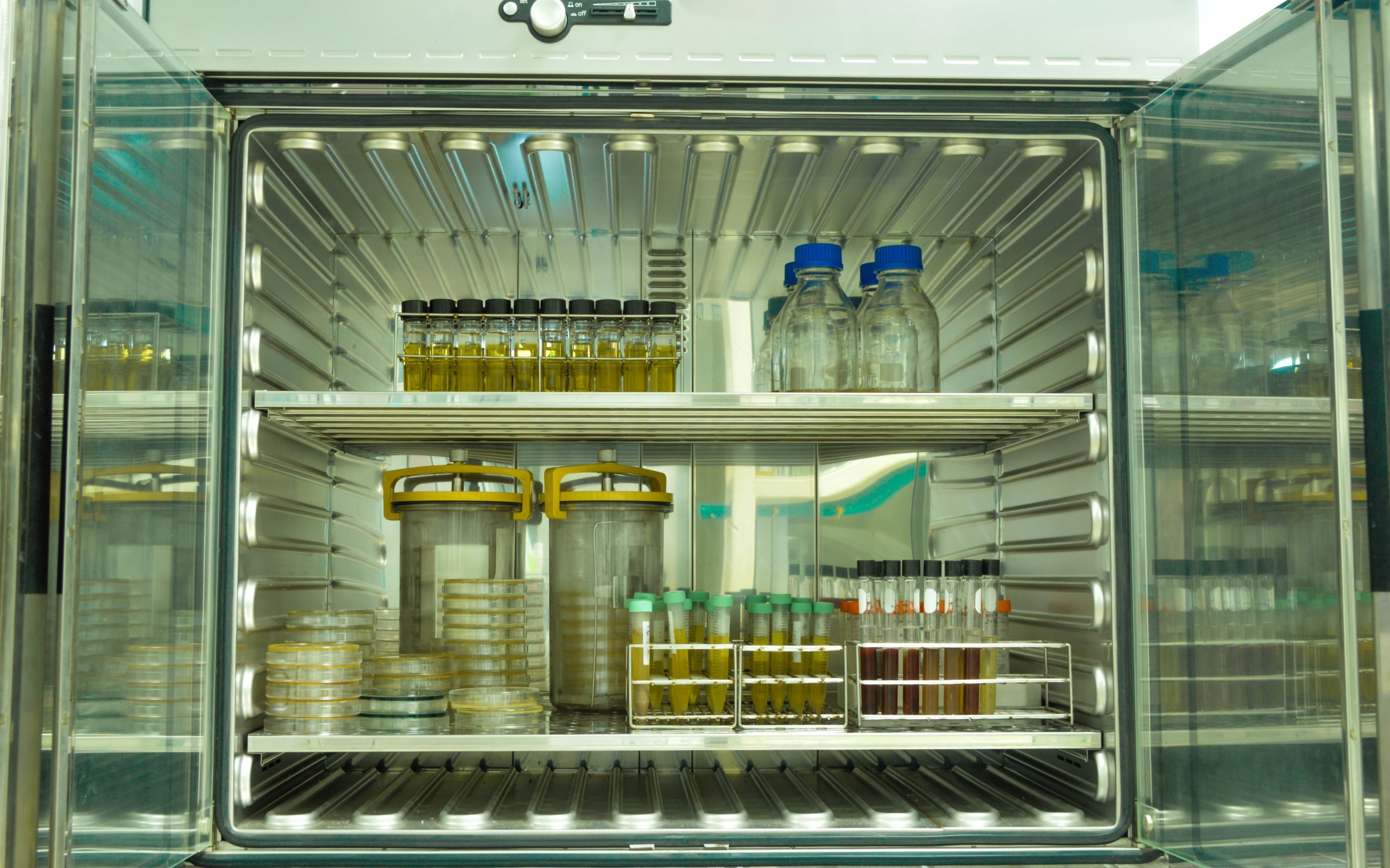 Research Impact
Professor O'Flaherty steadily grew his team at University of Galway, pushing boundaries and defining what was possible for low-temperature anaerobic digestion. The results have stimulated sustainable, systemic change, leading to the creation of a successful spinout company that is designing and installing the first commercial systems that can operate effectively in temperate climates. The benefit to the environment is a reduction in the energy consumption involved in treating waste water and increased financial savings for customers.
Commercial Impact
Excited and inspired by technological innovations from the MEL team, Nucleus Venture Partners (Alan Phelan & Sean McKeague) purchased the rights to the 2017 design patent, bringing Michael Murray on board as managing director and founding NVP-Energy. NVP Energy has created more than 15 specialist jobs in environmental engineering. Moreover, this award-winning small-business has since commissioned a total of five systems for big-name companies such as Heineken, Arrabawn, and Welsh Water, with plans to commission five more systems in the coming two to three years.
"Without the research coming from University of Galway, we would not exist. The anaerobic digestion technology that can operate at ambient temperatures in temperate climates is a game-changer. The technology has already started to revolutionise wastewater treatment across Ireland and the UK. It directly impacts how we think about carbon cycling, greenhouse gas emissions and energy production."
NVP Energy plans to continue to expand into the municipal wastewater market with their digester design. With over 1 billion litres of municipal wastewater generated daily in Ireland alone, and treated by more than 1,000 antiquated facilities, the opportunities to implement greener solutions are immense and thanks to University of Galway research, NVP-Energy are equipped to take on the challenge.
Customer Benefit
The system is energy-positive, saving users between 65-80% on wastewater treatment costs which are usually payable to water utilities. Moreover, they report a competitive return on investment due to on-site biogas generation which qualifies for renewable energy incentives. The system pays for itself within three years with substantial ongoing revenue thereafter.
"NVP Energy's cost-effective wastewater treatment solution with its short return on investment made it an easy choice."
The technology provides them with a more sustainable, cost-effective, and efficient wastewater treatment system meeting all of the environmental standards required by local authorities.
Environmental Impact
The work pioneered by Professor O'Flaherty at University of Galway continues to have a strong focus on water, energy and the environment with implications for sustainable agricultural practices, nutrient cycling and greenhouse gas emissions. AD systems can provide more sustainable solutions to protect water sources, while simultaneously generating usable, renewable energy. Low temperature AD, in particular produces as much as 280 kWh of energy in the form of biogas for every 100g of wastewater pollutants, rather than traditional systems, which consume energy for heating or mixing. Moreover, low-temperature AD can remove 80-99% of water pollutants without the costly and energy-intensive heating requirement. Finally, while a typical wastewater treatment plant has a large land-area requirement (sometimes up to 8 km2), the design developed at University of Galway requires far less space.
"Implementing NVP Energy's solution has provided ABP Food Group with cost effective wastewater treatment and high-quality biogas. What excited us is the innovation involved here. The technology treats wastewater, producing a biogas that can be used to reduce our carbon footprint on-site. The benefit from it, also, is that it's a modular process, we can control our costs in terms of construction and it fits quite readily and easily into the existing infrastructure. From an industry perspective, it's a no-brainer!"
See the NVP Energy technology in action at Arrabawn Daries and ABP Food Group.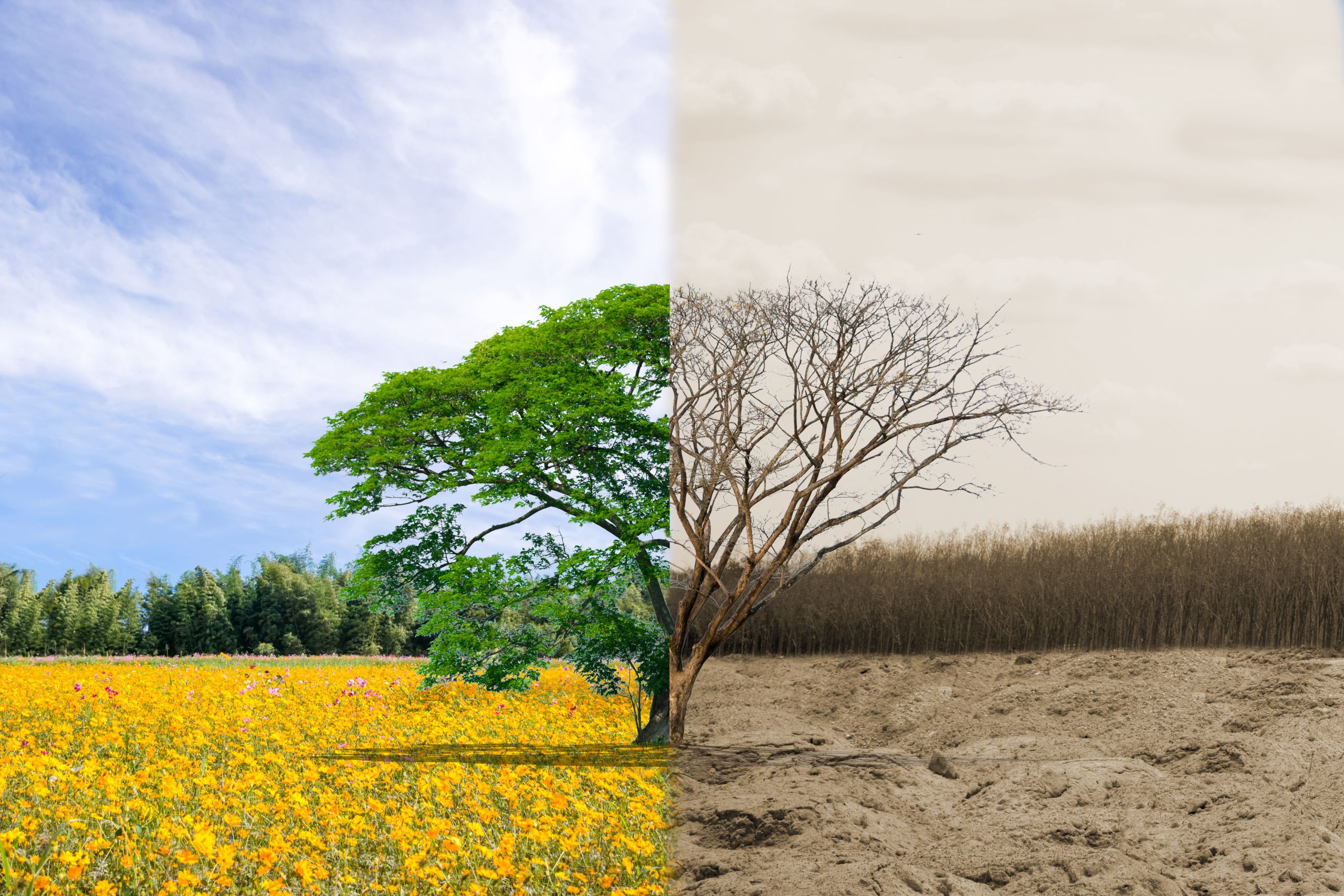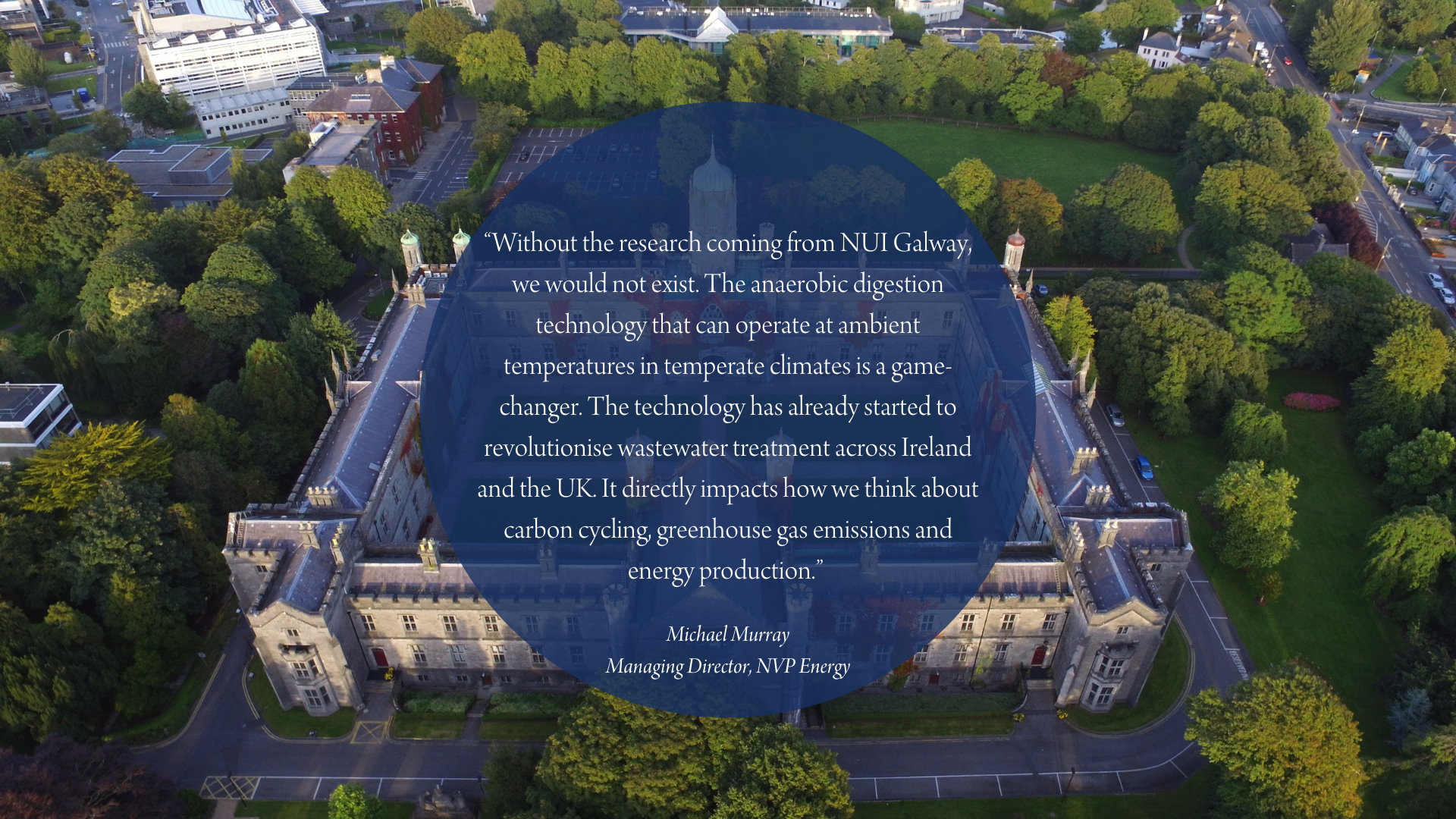 Pathway To The Impact
Impact began with a vision, an idea inspired by research conducted in the 1990's in the Netherlands. Could we modify the high-rate anaerobic digestion systems developed there, to work in Ireland's temperate climates? Would the microbial communities underpinning the process respond at low temperatures? Following successful lab-scale demonstrations, professor O'Flaherty sought early engagement with stakeholders (investors, end-users, etc.) to gauge the level of industrial interest, and gather insights into further applied questions. Given the high level of commercial interest, he began the patent-filing (invention disclosure) process, based on lab-scale data. Meanwhile, feedback from stakeholders indicated support and interest, but for the technology to really be convincing, they wanted a larger scale demonstration. Enterprise Ireland then funded a pilot-scale trial, which was successful, and NVP Energy was born.
Future Impact
Research conducted in the MEL lab is dedicated to solutions for global carbon cycling, greenhouse gas emissions, clean energy, and sustainable wastewater treatment. Ongoing research is attempting to transform high-energy wastes (e.g. dairy fats) into a form that will allow them to be treated by the low temperature anaerobic system used by NVP. Furthermore, there is a new focus on recovery of nutrients from the system and converting them into a usable form. The impacts of low-temperature AD will continue to have substantial and resounding impact, stimulating change in how we approach water, energy and the environment.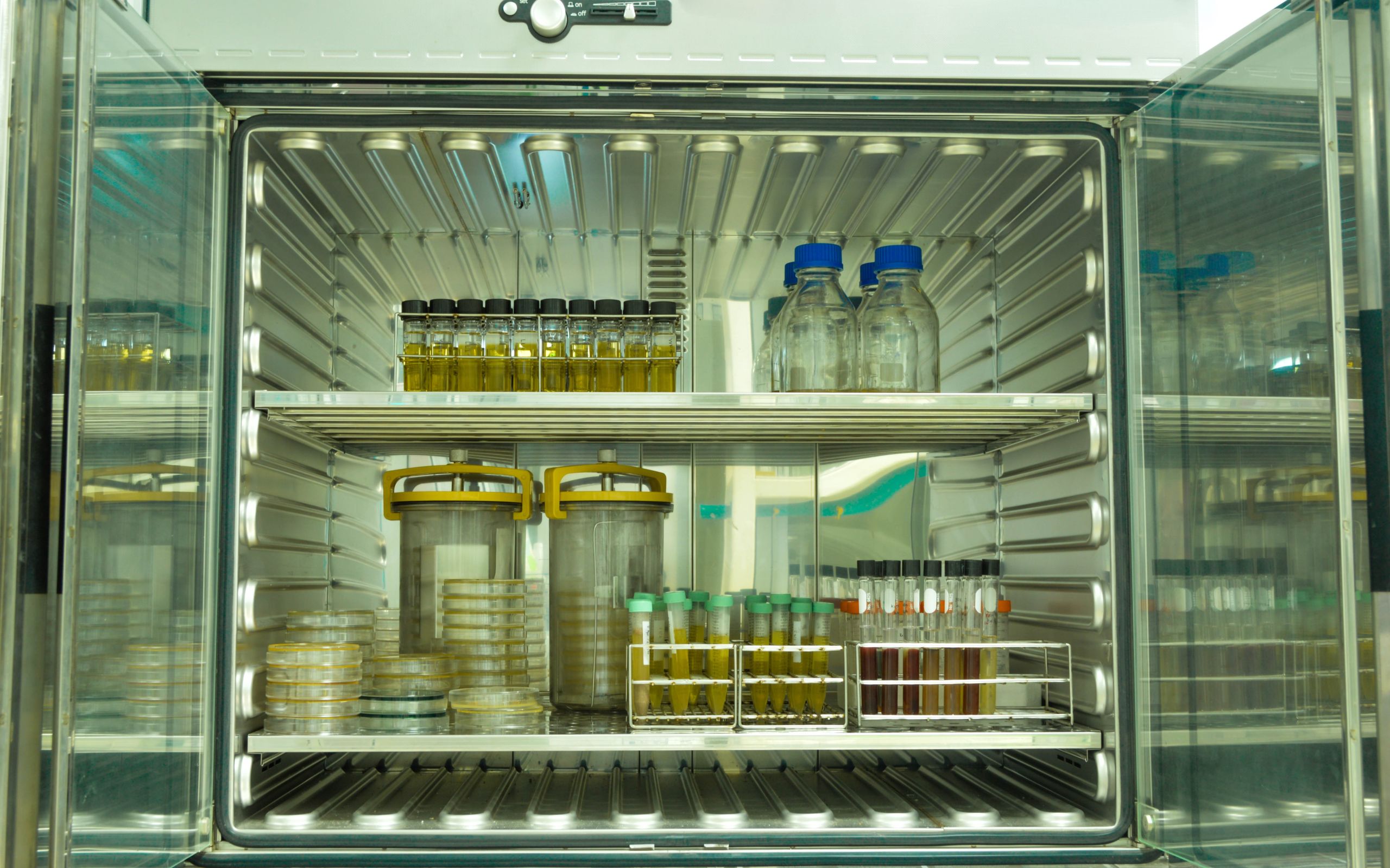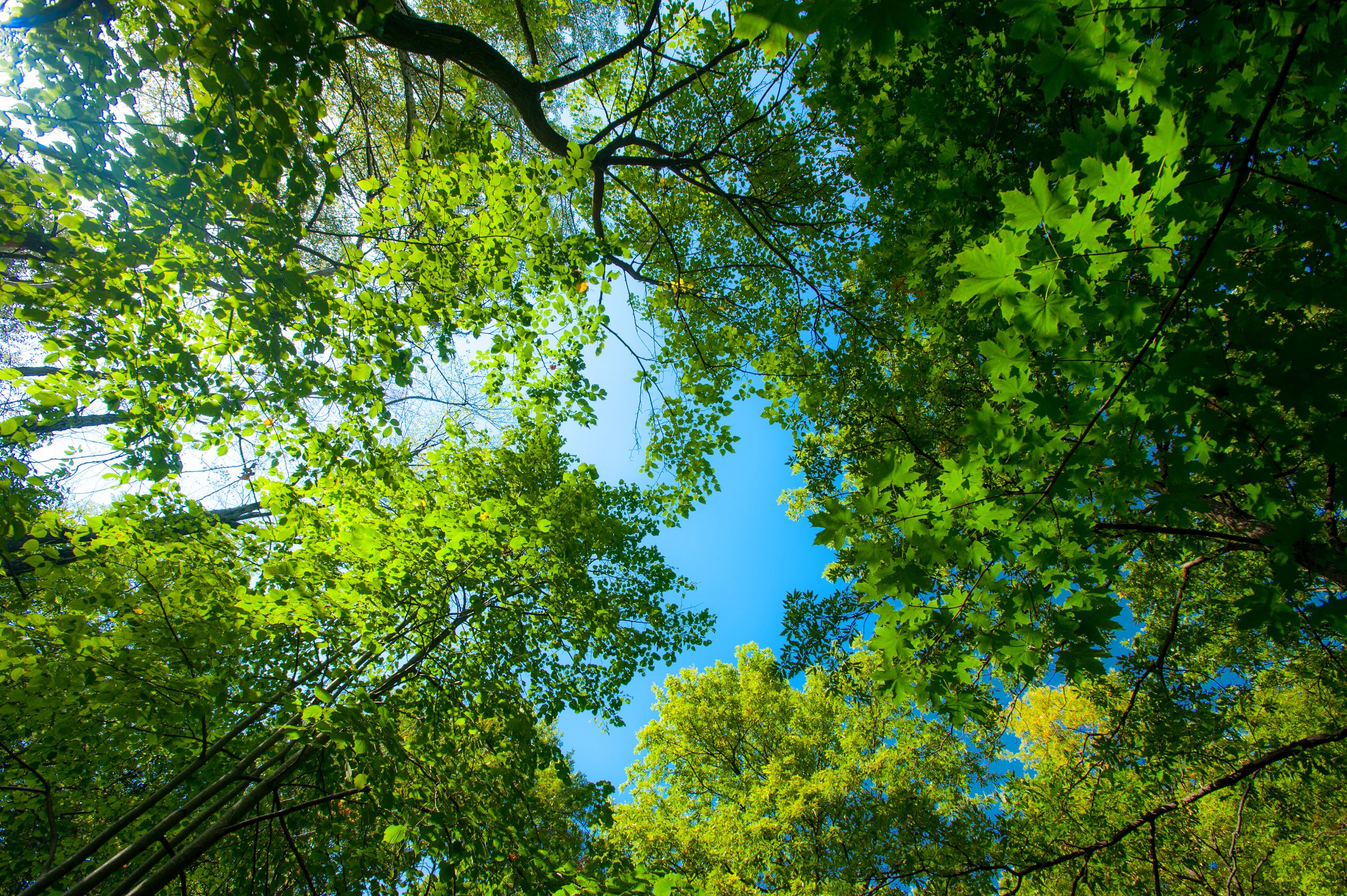 Funding