INTERSTROKE: Global research identifies stroke triggers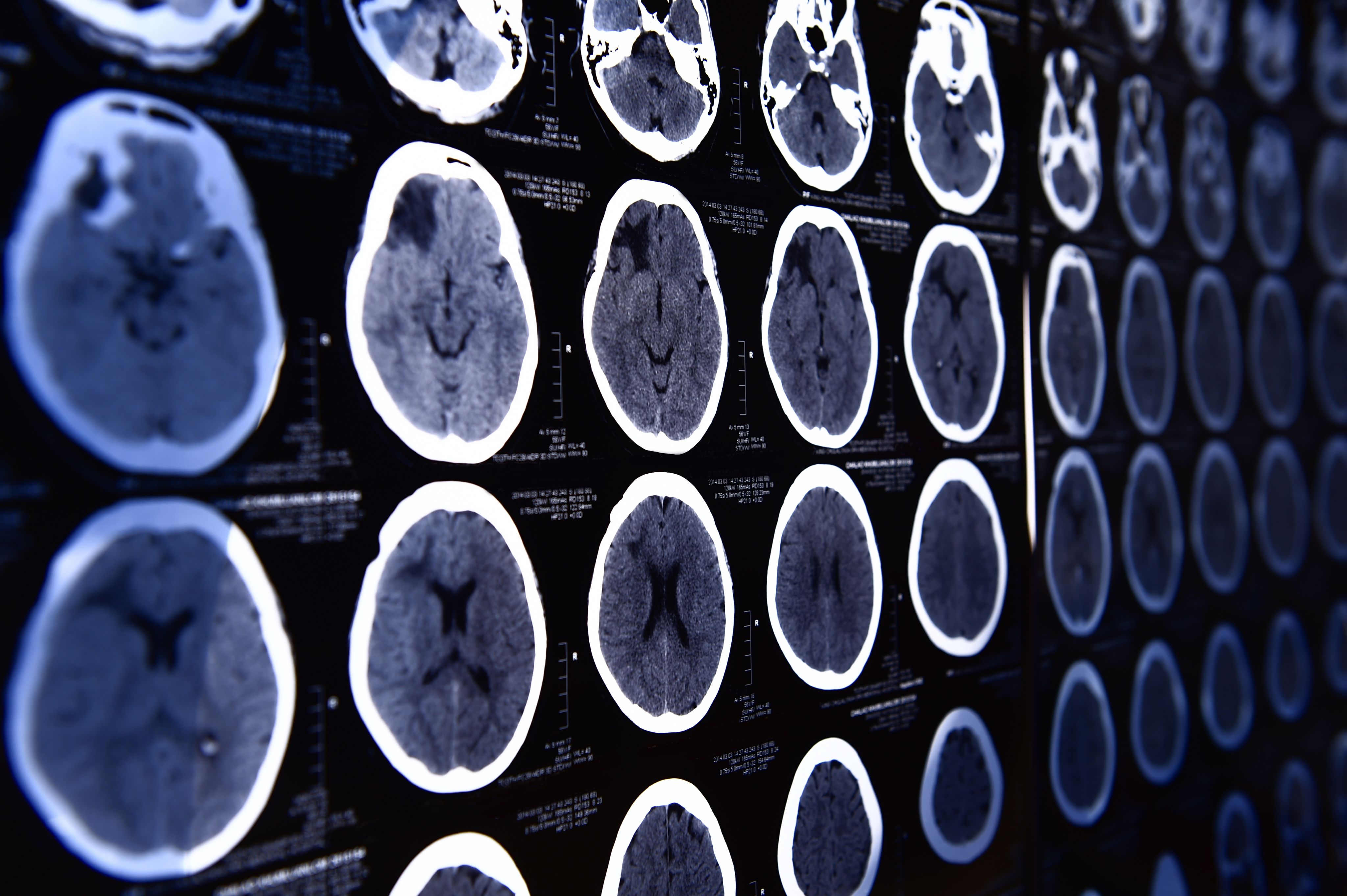 INTERSTROKE- the Importance of Conventional and Emerging Risk Factors of Stroke in Different Regions and Ethnic Groups of the World.
Stroke is the most common cause of adult disability and the third leading cause of death worldwide, most of which occurs in low-income countries. An effective global strategy to reduce the risk of premature stroke requires systematic evaluation of the contribution of important risk factors in various ethnic groups and geographical locations.
INTERSTROKE is an observational study led by Professor Martin O'Donnell at the College of Medicine, Nursing and Health Sciences at University of Galway, in partnership with McMaster University in Canada.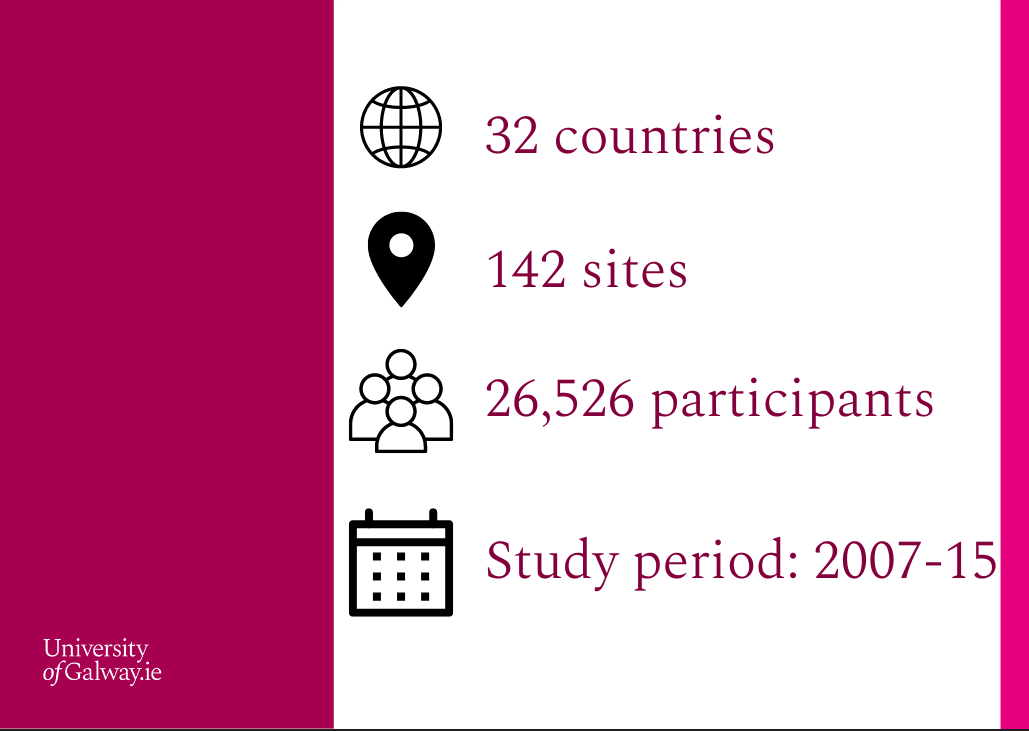 Global Variation in Stroke Mortality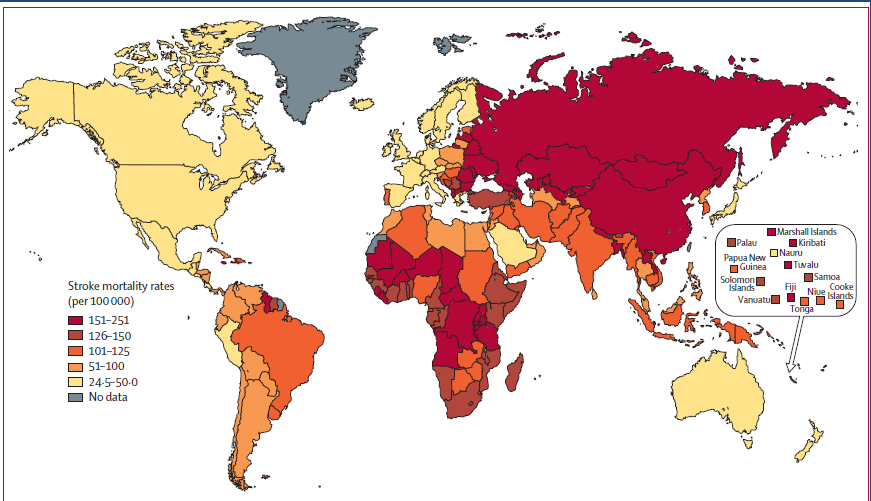 Johnston et al. Lancet Neurology 2009
Dr Martin O'Donnell is Professor of Neurovascular Medicine at University of Galway, and Consultant Geriatrician at University Hospital Galway, Ireland. A medical graduate of University College Cork, he trained in Geriatric and Stroke medicine in Ireland, Canada (McMaster University) and the US (Stanford University), during which time he completed a PhD with the Department of Clinical Epidemiology and Biostatistics (McMaster University).
He has led this international research identifying risk factors for stroke which included 26,000 individuals from 32 countries. Professor O'Donnell joined University of Galway and Saolta University Healthcare Group in 2010, developed a successful MSc in Clinical Research. He served as Director of HRB-Clinical Research Facility (until 2020) during a time of substantial growth in clinical trial research. He was appointed Dean of the College of Medicine, Nursing and Health Sciences at University of Galway in 2022.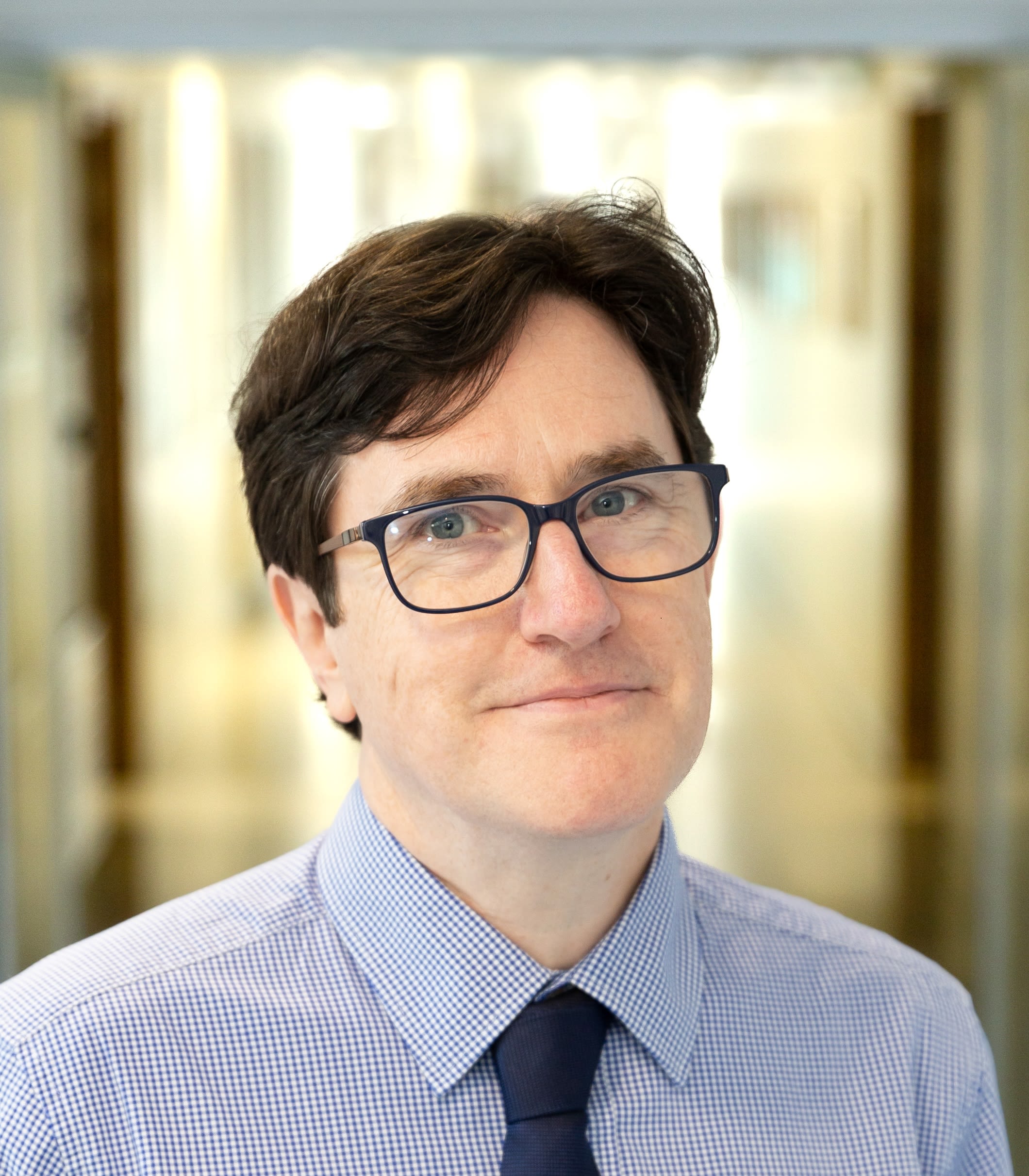 INTERSTROKE Publications
Depressive Symptoms and Risk of Acute Stroke: INTERSTROKE Case-Control Study
Robert P Murphy, Catriona Reddin, Annika Rosengren,Conor Judge, Graeme J. Hankey, John Ferguson, Alberto Alvarez-Iglesias, Shahram Oveisgharan, Mohammad Wasay, Clodagh McDermott, Helle Klingenberg Iversen, Fernando Lanas, FAWAZ AL-HUSSAIN, Anna Czlonkowska, Aytekin Oguz, Adesola Ogunniyi, Albertino Damasceno, Denis Xavier, Alvaro Avezum, Xingyu Wang, Peter Langhorne, Salim Yusuf, Martin O'Donnell, for the INTERSTROKE investigators.
Neurology DOI: https://doi.org/10.1212/WNL.0000000000207093
Association of Psychosocial Stress With Risk of Acute Stroke Catriona Reddin, MB; Robert Murphy, MB; Graeme J. Hankey, MD; Conor Judge, PhD; Denis Xavier, MD; Annika Rosengren, PhD; John Ferguson, PhD; Alberto Alvarez-Iglesias, PhD; Shahram Oveisgharan, MD; Helle K. Iversen, MD, DMSci; Fernando Lanas, PhD; Fawaz Al-Hussein, MD; Anna Członkowska, PhD; Aytekin Oguz, PhD; Clodagh McDermott, MD; Nana Pogosova, MD; German Málaga, MD; Peter Langhorne, PhD; Xingyu Wang, PhD; Mohammad Wasay, MD; Salim Yusuf, DPhil; Martin O'Donnell, PhD;
JAMA Netw Open. 2022; 5(12):e2244836. doi: 10.1001/jamanetworkopen.2022.44836
Anger or emotional upset and heavy physical exertion as triggers of stroke: the INTERSTROKE study Andrew Smyth , Martin O'Donnell, Graeme J Hankey, Sumathy Rangarajan, Patricio Lopez-Jaramillo, Denis Xavier, Hongye Zhang, Michelle Canavan, Albertino Damasceno, Peter Langhorne , Alvaro Avezum, Nana Pogosova , Aytekin Oguz , Salim Yusuf
DOI: 10.1093/eurheartj/ehab738
Mitochondrial dna copy number as a marker and mediator of stroke prognosis observational and mendelian randomization analyses Chong MR,Narula S,Morton R,Judge C,Akhabir L,Cawte N,Pathan N,Lali R,Mohammadi-Shemirani P,Shoamanesh A,O'Donnell M,Yusuf S,Langhorne P,Paré G
NEUROLOGY DEC 8,2021
DOI: 10.1212/WNL.0000000000013165
Alcohol intake as a risk factor for acute stroke the interstroke study Smyth A,O'Donnell M,Rangarajan S,Hankey GJ,Oveisgharan S,Canavan M,McDermott C,Xavier D,Zhang H,Damasceno A,Avezum A,Pogosova N,Oguz A,Ryglewicz D,Iversen HK,Lanas F,Rosengren A,Yusuf S,Langhorne P,INTERSTROKE Investigators
NEUROLOGY OCT 11,2022
Role of proxy respondents in international stroke research experience of the interstroke study Costello MM,Judge C,Reddin C,Rangarajan S,Langhorne P,Zhang H,Iversen HK,Xavier D,Smyth A,Canavan MD,Yusuf S,O'Donnell MJ
NEUROEPIDEMIOLOGY JUL 11,2022
DOI: 10.1159/000525510
Association of lipids lipoproteins and apolipoproteins with stroke subtypes in an international case control study interstroke
JOURNAL OF STROKE MAY 31,2022
DOI: 10.5853/JOS.2021.02152
Global and regional effects of potentially modifiable risk factors associated with acute stroke in 32 countries (INTERSTROKE): a case-control study. Martin J O'Donnell, Siu Lim Chin, Sumathy Rangarajan, Denis Xavier, Lisheng Liu, Hongye Zhang, Purnima Rao-Melacini, Xiaohe Zhang, Prem Pais, Steven Agapay, Patricio Lopez-Jaramillo, Albertino Damasceno, Peter Langhorne, Matthew J McQueen, Annika Rosengren, Mahshid Dehghan, Graeme J Hankey, Antonio L Dans, Ahmed Elsayed, Alvaro Avezum, Charles Mondo, Hans-Christoph Diener, Danuta Ryglewicz, Anna Czlonkowska, Nana Pogosova, Christian Weimar, Romaina Iqbal, Rafael Diaz, Khalid Yusoff, Afzalhussein Yusufali, Aytekin Oguz, Xingyu Wang, Ernesto Penaherrera, Fernando Lanas, Okechukwu S Ogah, Adesola Ogunniyi, Helle K Iversen, German Malaga, Zvonko Rumboldt, Shahram Oveisgharan, Fawaz Al Hussain, Daliwonga Magazi, Yongchai Nilanont, John Ferguson, Guillaume Pare, Salim Yusuf
LANCET (LONDON, ENGLAND) JUL 16,2016
DOI: 10.1016/S0140-6736(16)30506-2
Risk factors for ischaemic and intracerebral haemorrhagic stroke in 22 countries (the INTERSTROKE study): a case-control study. Martin J O'Donnell, Denis Xavier, Lisheng Liu, Hongye Zhang, Siu Lim Chin, Purnima Rao-Melacini, Sumathy Rangarajan, Shofiqul Islam, Prem Pais, Matthew J McQueen, Charles Mondo, Albertino Damasceno, Patricio Lopez-Jaramillo, Graeme J Hankey, Antonio L Dans, Khalid Yusoff, Thomas Truelsen, Hans-Christoph Diener, Ralph L Sacco, Danuta Ryglewicz, Anna Czlonkowska, Christian Weimar, Xingyu Wang, Salim Yusuf
LANCET (LONDON, ENGLAND) JUN 17,2010
DOI: 10.1016/S0140-6736(10)60834-3
Rationale and design of INTERSTROKE: a global case-control study of risk factors for stroke. M O'Donnell, D Xavier, C Diener, R Sacco, L Lisheng, H Zhang, P Pias, T Truelsen, S L Chin, S Rangarajan, L Devilliers, A Damasceno, C Mondo, F Lanas, A Avezum, R Diaz, J Varigos, G Hankey, P Teal, M Kapral, D Ryglewicz, A Czlonkowska, M Skowronska, P Lopez-Jaramillo, T Dans, P Langhorne, S Yusuf;
DOI: 10.1159/000306058